Vigilant Solutions Reflects on and Remembers the Fallen During Police Week
This week, thousands of law enforcement officers are gathering to honor those who have lost their lives while in the line of duty for Police Week.
At Vigilant Solutions, we are sitting down this week with our team members who are former law enforcement to reflect on those who have paid the ultimate sacrifice. Chris Morgan is a retired Lieutenant from Long Beach Police Department and is currently a Manager on our Client Relations Team, where he conducts on-site trainings at agencies across the country. Chris shares with us who he recognizes this week.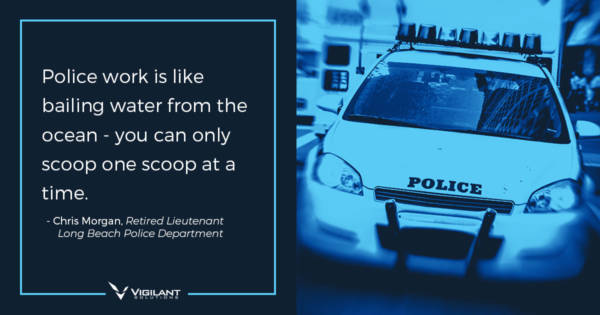 What led you to wear the badge?
I wanted to have an exciting job that was different every day. Boy, did I get that! Working in Long Beach led to me experiencing more than I ever thought was possible, both good and bad.
Reflections on those who've paid the ultimate sacrifice.
The biggest losses of my career were Karl Simons (classmate) and Darrell Black. Karl died as a result of a horrific single-vehicle accident as he was speeding up the 710 freeway to respond to a stolen car call.  Absolute waste of a wonderful man and a dedicated police officer. Darrell was killed after he and his partner were ambushed in central Long Beach. Darrell was a monster of a man (huge in a good way) and it was humbling to have one of my friends who I thought was invincible be killed. It really created some perspective for me as to what we were really doing out there.
What advice do you have for those who are still on the field?
Slow down! It's not worth it. We used to say police work is like bailing water from the ocean – you can only scoop one scoop at a time. Don't get yourself or someone else hurt trying to get it done.
Stay tuned this week as we share the stories of our team member's time in law enforcement.