Vigilant Solutions announces today that its license plate recognition (LPR) cameras and historical license plate reader data are being used by Lee's Summit Police Department to improve safety for its residents, including the recent location and arrest of a homicide suspect.
Located in the metropolitan area of Kansas City, Lee's Summit covers around 65 square miles and is home to roughly 100,000 residents. Lee's Summit Police Department has a single mobile license plate reader system and also leverages Vigilant's network of commercially available LPR data to supplement its own data for investigative purposes.
Detective and Criminal Intelligence Officer Mark Phillips manages the agency's LPR program. Detective Phillips explains, "The system is incredibly valuable in helping locate vehicles of interest. In 2015 alone, we recovered 101 stolen vehicles with the use of our LPR system, some of which resulted in arrests. While it is nice to return stolen vehicles to their owners, this is not the only reason we look for these vehicles. Stolen vehicles are often used to perpetrate other, more serious, crimes. It is important to locate these vehicles as soon as possible in order to improve the chances of returning the vehicle to its owner and to reduce the likelihood that a more serious crime may occur that may endanger our citizens or officers. Considering that the system was only in use for roughly nine months last year, these are extremely impressive results, equating roughly to a vehicle recovery every 2.5 days."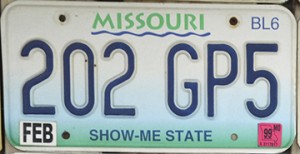 Vigilant's commercial data network adds roughly 36,000 monthly LPR detections in Lee's Summit and almost one million monthly LPR detections in the surrounding Kansas City metro area; this is in addition to any data collected by the agency's system. All LPR data is anonymous in nature and does not contain information on drivers or registered owners. Connecting an anonymous license plate number to a registered owner is done only with a permissible purpose as defined by the federal Driver's Privacy Protection Act (DPPA), and this does not occur within the Vigilant Solutions system.
Detective Phillips concludes, "The historical license plate reader data offered by Vigilant has proven valuable in a number of investigations here in Lee's Summit. For example, last summer the data was useful in locating and arresting a dangerous homicide suspect. We had a license plate number for the suspect's vehicle. We searched the historical LPR data for this vehicle and found very limited data in the prior 30 days. But, because of several detections dating back several months, we were able to focus our search efforts around a certain location in Kansas City. With this information, we were able to locate the suspect's vehicle and establish surveillance which ultimately led to this individual's apprehension and arrest by members of Kansas City Police, Federal Marshals, and ATF. Our community is certainly a safer place with this individual off the street."

Download a PDF of the Press Release