Vigilant Solutions Remembers and Honors Those Who've Paid the Ultimate Sacrifice
Throughout this week, different Vigilant Solutions' team members shared stories of their time on the field and remembered those they knew who paid the ultimate sacrifice. Today, Kyle Hoertsch reflects on those he lost and how he honors and remembers them this week.
Kyle is a retired Sergeant at Sacramento County Sheriff's Department and currently serves as the Director of Client Relations team at Vigilant Solutions.
What led you to wear the badge?
The same thing that led me to serve in the U.S. Army led me to wear the badge – my father. My dad served time in the U.S. Army, was deployed to Vietnam and then was hired with Riverside County Sheriff's Department in California. I grew up with him being in law enforcement up until his retirement and spent plenty of time around other deputy sheriffs and at the sheriff's station. One night the sheriff's department was tracking a murder suspect who was hiding in the woods. My family and I went to the command post (CP) to see my dad since he had not been home overnight. When we were at the CP a California Highway Patrol helicopter landed where my dad got out and walked over to us. I was so proud to see my dad out there doing that job. It was the first time I thought to myself that law enforcement is a profession I would love to have. Years later, I spent 5 years in the US Army and applied to the Sacramento County Sheriffs Department, where I spent all of my 22 year Law Enforcement career.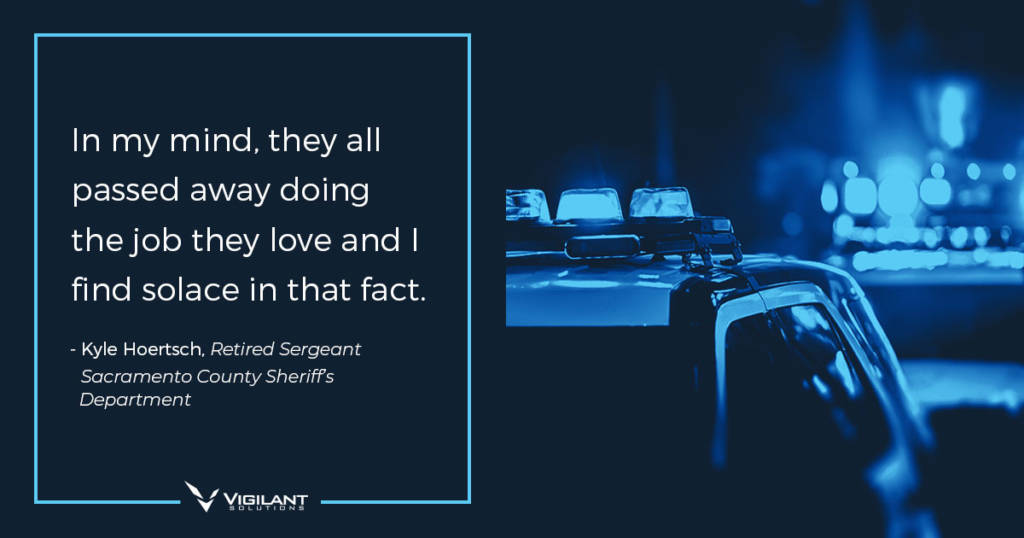 Reflections on those who've paid the ultimate sacrifice.
During the course of 22 years with the Sacramento Sheriff's Department, I was fortunate to know all nine of my co-workers who perished in the line of duty. Some I knew better than others;  a few I went to the academy with, and some I worked closely with at several assignments. In my mind, these people may not physically be with us, but I often reflect on them and at times still, find it hard to comprehend that they are no longer physically with us. In my mind, they all passed away doing the job they love and I find solace in that fact. The best way to honor them is to keep them in your thoughts and never let their memory fade.
What advice do you have for those who are still on the job?
The best advice I can give to those still on the job is to always do everything for the right reasons, and never take anything personally. Your hard work and effort will translate into lives being saved and bad people being removed from the general population. You will have an impact on those who may have chosen a different path in life. Looking back on your career, you will relish those who may have changed their ways due to you.
Thank you for tuning in all week to hear stories of our team members as they reflect on their time in law enforcement and remember those who have passed. And most importantly, thank you to those who have served, are currently serving, and those who've paid the ultimate sacrifice. #BeSafeBeSmartBeVigilant