Delete, delete, delete!
This is the battle cry of privacy advocates around the world, and it is working its way into all sorts of misinformed media coverage and proposed legislation in the United States.
The primary argument is that LPR detection data is worthless if it doesn't match a law enforcement database of interest, and it should be deleted. The people making this argument are also claiming that these scans, if not deleted, violate the privacy of innocent citizens. Those making this argument obviously do not understand the investigative process and are not aware of the thousands of cases solved using historical LPR data – everything from homicide, rape, terrorism, Amber Alerts and missing persons, narcotics and human trafficking, and essentially every other type of crime imaginable. These people also lack a basic understanding of what LPR is – and is not.
Education is Key
Over the past three years, Vigilant Solutions has worked alongside its law enforcement partners in efforts to help educate a) that historical LPR data aids law enforcement investigations every day, b) that collected LPR data is anonymous and contains absolutely no personally identifiable information, c) that it is well established in the courts that there are no 4th Amendment implications in the use of LPR, and d) that a federal law called the Driver's Privacy Protection Act (DPPA) already governs how law enforcement may access a driver's personal information. During this three year period, roughly thirty states have proposed around 75 bills attempting to restrict law enforcement's use of LPR technology. Common elements of these bills include limiting the retention period of the data, prohibiting agencies from using LPR data collected by other agencies and/or available from commercial sources, and requiring a warrant in order to access LPR data.
Making Progress
Vigilant is pleased that – due to the coordinated efforts of its law enforcement partners, the vast majority of these proposed bills have either been tabled for further study or revised into something very positive for both the public and law enforcement. Some of the positive changes implemented into law include protection of the data as law enforcement sensitive data which is not subject to FOIA requests, requiring case-level auditing and access controls to the data, requiring that agencies have a written LPR policy that requires training and the definitions of proper and improper use, establishing that LPR data is NOT personal information unless combined with other data sources, and the establishment of retention policies that allow law enforcement to solve cold cases while balancing the issue of public trust.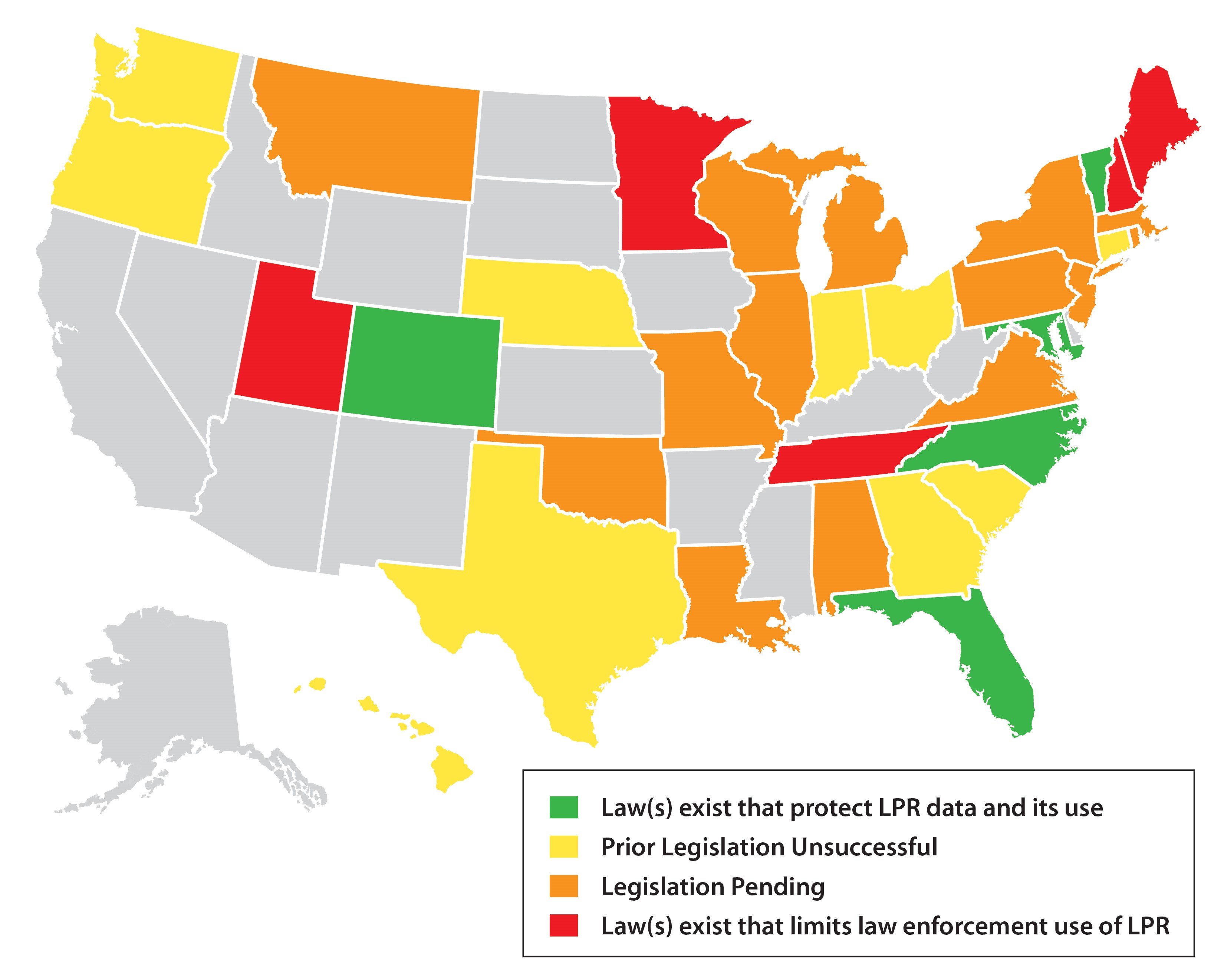 While Vigilant has been very active in assisting our law enforcement partners and associations with information and support (brochures on case law application of 1st and 4th amendment to LPR, sample LPR policies, success stories, information on the federal Driver's Privacy Protection Act, written and verbal testimony at legislative hearings, and more), we merely serve a support role. All of the credit goes to the individuals, agencies, and associations that are being vocal in their support of the technology, helping to get the messages and materials into the hands of decision makers, and letting us share and broadcast success stories for better public awareness.
Can we count on your support IF your state attempts to limit LPR?