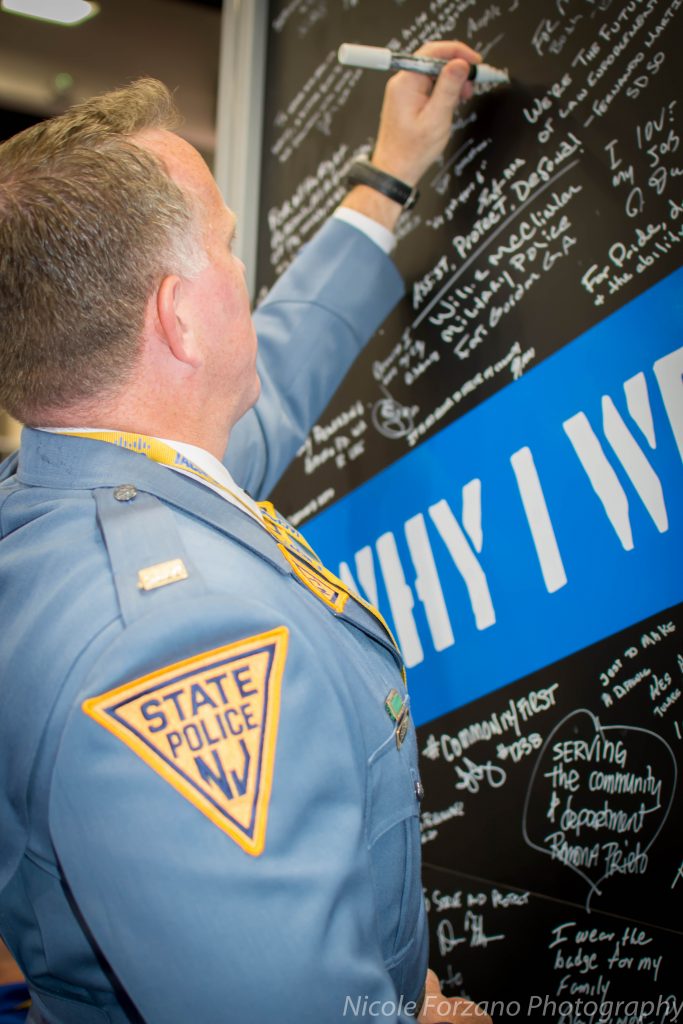 Inaugural 'Best In Force' Award Honors Exceptional Use of Vigilant's Investigative Platform to Solve Crimes
LIVERMORE, CALIFORNIA (October 26, 2016) – Vigilant Solutions proudly honors the New Jersey State Police Regional Operations and Intelligence Center (ROIC), with the first annual 'Best In Force' award recognizing the agency's outstanding use of Vigilant's investigative platform powered by automated license plate recognition (ALPR), analytics and facial recognition technology. The award includes a $5,000 donation to the New Jersey State Police Survivors of the Triangle fund.
"From day one, the New Jersey State Police Regional Operations and Intelligence Center has shown the most innovative, pioneering and assertive use of ALPR data and analytics that I have experienced. The dedicated and talented people commanding and staffing these units are truly deserving of the 'Best In Force' award. Vigilant is proud to recognize these crime fighters turned crime solvers; once again showing that more data equals more leads, and smart data use equals more case closures," said Shawn Smith, Founder and President of Vigilant Solutions.
"We use Vigilant's ALPR analysis as a tool in virtually every crime-related investigation we support. When examining cross jurisdictional patterns and trends affecting large portions of the State of New Jersey, Vigilant has proven to be a reliable resource. ALPR analysis is a key tool in both detecting the current location of a vehicle of interest, and in linking locations of interests to known or suspect vehicles. The data set within Vigilant and combined analytical tools provides the most 'hits' of the multiple ALPR systems that the ROIC employs. We are honored and pleased to accept the first ever 'Best In Force' award," said Lieutenant Craig Costello #6068, Unit Head of the Crime Analysis Unit, from the New Jersey Regional Operations and Intelligence Center.
In addition to Vigilant's ALPR system locating numerous felony and stolen vehicles in the state of New Jersey, it has proven successful in several high priority events.
Following a vehicular aggravated assault on a Federal Agent, ROIC personnel flagged the suspect's vehicle into a number of ALPR systems, including Vigilant's. The following day, a notification on the vehicle was received from Vigilant. Federal, state, and local agencies responded to the area and the suspect was apprehended as he was preparing to flee the state.
Following notification of a missing person in New Jersey, ROIC personnel flagged the owner's vehicle. It was located out of state two days later through Vigilant's ALPR, and the missing person's body was discovered inside the vehicle.
A triple shooting occurred in September 2016, in which rifles and handguns were used, and one of the only leads in the case was the description of the vehicle involved, with no registration information. Using Vigilant to search the vehicle description, New Jersey ROIC identified a vehicle which matched the description in the immediate vicinity and time of the shooting. The registered owner of that vehicle has a criminal history which includes firearms possession. This is currently an active investigation.
When lives are on the line, agencies deserve to be equipped with the best tools to develop leads and solve crimes. This award recognizes those agencies that not only use Vigilant's ALPR platform, but that put in place the best policies, procedures and training to enhance officer safety and solve crimes. Vigilant plans to honor an agency annually at IACP and will distribute the award to the agency's fallen officer fund.