Reflections on those who've paid the ultimate sacrifice
Police Week began in 1962 when President John F. Kennedy signed a proclamation designating May 15th as Peace Officers Memorial Day, and the week it falls during as Police Week. Now, thousands of law enforcement officers around the world come together in Washington D.C. to honor those who have paid the ultimate sacrifice.
This week at Vigilant, we are honoring those who have fallen by asking team members who are retired law enforcement to reflect on their time on the job and to pass along wisdom to those who are still active members. We will be sharing their stories and reflections all week long. Don Soranno is a Retired Special Agent in Charge at the Alcohol, Tobacco, Firearms, and Explosives (ATF), and is currently a Product Manager at Vigilant Solutions. Today, Don shares how he honors those who are not here with us today.
What led you to wear the badge?
You can say it's in my blood. I have several uncles who were officers at the Detroit Police Department (DPD), but my Uncle Sam really drew me to the profession. He spent numerous years in uniform and then a plainclothes officer going after criminals who were the worst of the worst. My law enforcement career started as soon as I was old enough to sign the waiver with DPD, and I routinely did ride-alongs with my uncle and his partner. Because of them, I ended up getting involved with the Law Enforcement Explorers, which is similar to Boy Scouts but focused on law enforcement. I maintained involvement in the program while in high school and then began applying for colleges that offered a degree in law enforcement.
I've always wanted to give back to my community and do my part to reduce violent crimes and make a difference. I worked for a local sheriff's office for a very short time before getting hired by ATF in 1990, where I did 26 fulfilling years and helped make a difference in communities across the country.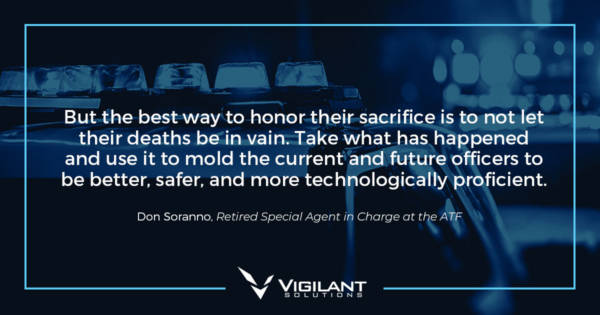 Reflections on those who've paid the ultimate sacrifice
.
The best way to honor them is, while it might sound cliche, is to never forget their sacrifice. The brave men and women in uniform go to work every day to make their communities a better place to live. The National Law Enforcement Officers Memorial and Museum is a great way to honor our fallen brethren. It also allows the general population to see the lives of law enforcement in real light. But the best way to honor their sacrifice is to not let their deaths be in vain. Take what has happened and use it to mold the current and future officers to be better, safer and more technologically proficient.
What advice do you have for those who are still on the job?
Right now law enforcement is under heightened scrutiny and is a tough field in which to work. There is so much pressure from communities to do more to reduce violent crime, yet small issues may easily be blown out of proportion. Stay the course and ignore the naysayers. Don't get drawn into the "Us Against Them" mentality. And every department, no matter the size, needs to ensure they are working with the communities they serve and not just looking to make arrests. Get out and talk with the local kids, play ball with them ion the street, show up at picnics and community events as a member of the community.  And most importantly, look after yourself – both physically and mentally – to ensure you do the most important thing each workday: make it home to your loved ones.
Stay tuned all week long as we honor those who have paid the ultimate sacrifice, and for those who are still protecting our communities.